(DC Comics, 2014)
Writer: Jeff Lemire
Art: Mike McKone
Inks Dexter Vines, Cam Smith, & McKone
Colorist: Marcelo Maiolo
While helping Dr Adam Strange search for his missing fiancé, Alanna Lewis, near an archaeological dig in Northern Ontario, the Justice League United discovered a lab where aliens were conducting experiments. Following a battle with a powerful hybrid creature, the JLU were transported via Zeta Beam to the plant Rann, where they team up with Supergirl and set out to confront the menace of the shape-shifting alien Byth. Meanwhile on Earth, Miiyahbin and Heather find the aliens hidden bunker, while on the Moon of Thalsalla, the showdown between Hawkman and Lobo continues…
Justice League United #2 continues to establish the bond between the characters that make up the JLU, while writer Jeff Lemire widens the scope of the storyline as our heroes arrive on the planet Rann. At first it seems like this issue will be just another battle with the hybrid force the JLU faced in Canada, but once the Unimaginable has been contained, the issue quickly introduces us to the scientist Sardath and we learn more about the Ultra Project. This project was conceived to create a hybrid being that would become a symbol of unity; instead it became corrupted when the shape shifter Byth infiltrated the lab on Earth and took over the project.
I really like how writer Jeff Lemire is already beginning to expand the scope and scale of the cosmic events the JLU have become involved in, as part 3 of this Justice League Canada storyline details the events that led to the origins of the Ultra Project. Its this rich diversity of alien races, cultures, and technology, that forms a perfect backdrop to the storyline, and while the plot unfolding on Rann is quite complex, Lemire still keeps things on an even keel, breaking up the narrative with some spooky happenings in the bunker on Earth, plenty of snappy banter between the JUL, and Hawkman's fight with Lobo on the Moon of Thalsalla.
Justice League United is a really fun book to read. I think Lemire has done a terrific job of bringing all these characters together, they have an interesting mix of powers and skills, and he is quickly establishing a great dynamic between them as a team. The witty dialogue is also really good, I especially liked the funny exchanges between Green Arrow and Animal Man as they battled the hybrid, and Star Girl's hurried explanation to Supergirl was also very amusing.
Mike McKone's art for Justice League United #2 is excellent, together with inker Dexter Vines and Cam Smith, and Colorist Marcelo Maiolo, this title has a very distinct look and tone that really makes it stand out from the crowd. We are treated to a great splash page as Supergirl arrives to help, Sardath's account of the interplanetary war between the Polaris and Vegan systems and the formation of the Ultra Project is intricately detailed, and the way the action blends into the events seen in Justice League United #0 are all brilliantly handled.
Justice League United #2 covers a lot of ground in a very short space of time; the only real negative point is that Supergirl's sudden appearance does seem to have come out of nowhere, especially as she is still a Red Lantern, and we have no explanation why she's not a Red Lantern in this issue. It would have been nice to have seen more of the new character, Equinox / Miiyahbin, as well, so hopefully we will learn more about her soon. These minor quibbles aside, there is still a lot to enjoy in Justice League United, with its tightly plotted story and great art, the books lighter tone is also a refreshing change as well, and certainly makes this title one that I would highly recommend.
___________________________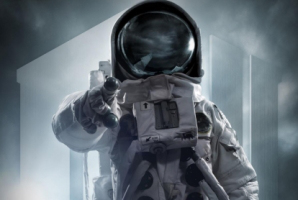 Paul Bowler is a self-Confessed Sci-Fi Geek, Doctor Who fan, and Zombie Disposal Expert. He likes movies, comic books, and all things PS3. He likes to write about his interests, would love to write a novel one day, and also enjoys chatting to the many people he has gotten to know on Twitter. When he's not busy being an Impossible Astronaut, he likes to take a break from his adventures in time and space to enjoy some of his favourite tv shows and movies – preferably with a nice cuppa tea & a sandwich! You can follow him on Twitter @paul_bowler, or find him at his website, Sci-Fi Jubilee.