(DC Comics, 2014)
Written by Scott Snyder
Artwork by Greg Capullo
Color Artwork by FCO Plascencia
Lettering by Steve Wands
Scott Snyder has gone to great lengths to humanize Batman and in so doing he has created a flawed hero who rises above those flaws to become stronger; it is, in fact, those flaws that go on to define the hero. It could be said that Batman was born the moment Bruce Wayne's parents were murdered, well before young Bruce ever donned cape and cowl the pathos that would go on to form the Dark Knight persona were set into motion deep beneath the exterior of a psychologically and emotionally wounded child. Snyder does a fantastic job in this issue of showing how the effects of PTSD played a major role in the birth of Batman and in so doing he has rooted the myth in reality in a very authentic way. He makes particularly clever use of a flashback scene set in a classroom in which a youthful Bruce Wayne showcases his already impressive intellect when responding to his teacher's challenging query in an unexpectedly ingenious manner that not only alludes to the significance of the "Zero Year" arc in the Batman mythology but, really drives home the psychological damage that has been done to Bruce as a result of not only his parents' murders but the fact that he was there and witnessed the tragic event first hand. Snyder digs deep into this life changing calamity and mines the character developing gems that are at the heart of Bruce's transformation. He very astutely demonstrates that it is not the event itself that makes Bruce a hero but his response to the event that forever sets him upon a heroic path and what Snyder does by showing us that Bruce is human and deals with a catastrophic occurrence and its resulting effects as a human, makes the character immensely relatable to us.
The tone of the narrative has grown increasingly dark as we move deeper into the concluding chapter of Zero Year. The citizens of Gotham have never seen anything like the sinister shadow The Riddler has cast over their city yet even in this time of despair there is reason to hope. The collaborative efforts of Batman and Jim Gordon prove to be up to The Riddler's challenge. Snyder writes some of his most tense and suspenseful scenes in this issue as the plan to thwart Riddler's lethal scheme plays out. His take on a younger, less seasoned Gordon is a joy to read, as is the emerging partnership between Gordon and Batman. The mood has grown noticeably more apprehensive, every little detail becomes much more urgent and important as the outcome hangs precariously in the balance. This is where Snyder turns it up a notch, or three or four, and his storytelling prowess really catapults us through the final act.
This issue is truly indicative of just how good this creative team is. Not only is Snyder's writing superb but Greg Capullo has knocked another issue out of the park visually. His dynamic page compositions bring a dramatic sense of urgency to the narrative as well, keeping pace with Snyder's epic plot. Capullo is so much more than a penciller, he is a storyteller in his own right and that fact comes shining through blindingly so in this issue. Danny Miki does an amazing job of capturing the subtle nuances of Capullo's highly detailed pencils but perhaps the real unsung hero of this team is FCO Plascencia whose vivid palette works in wonderful juxtaposition with the somber tone of the narrative to throttle up the exciting imagery, making it appear larger than life in that way that only comic book art can. This is the stuff sequential art dreams are made of.
Zero Year has delivered at every turn and this issue continues to impress. Snyder and Company have collaborated on another stunning chapter of this character defining arc. There are tons of little gems alluding to Batman's history included in this issue as well as lots of over the top action; one scene comes to mind in which the Caped Crusader faces a ferocious lion bringing to mind a bit of the Batman '66 campiness. Snyder is such a great Batman writer because he loves the character as much as we do and that comes through so clearly in his writing. He is a student of Batman history and continuity in much the same way as Grant Morrison, a fact that can only make me love his work even more. So if for some inexplicable reason you have not been reading this amazing run I suggest immediately rectifying that huge mistake and investing in all the Snyder and Capullo Batman trades, locking yourself in a room and treating yourself to the most dynamic run on Batman since Grant Morrison left the character. (5/5)
___________________________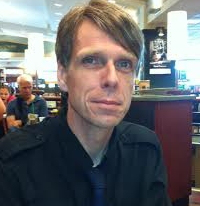 Shawn is an aspiring writer/ artist who has been reading, collecting and living comic books for over 30 years. He lives in Baltimore with his wife, their son, lots of cats, dogs and other various finned and furry friends.