(Image Comics, 2014)
Writer – Joshua Williamson
Artist – Mike Henderson
Colors – Adam Guzowski
Cover – Chip Zdarski
Congratulations Mr. Zdarksi, on giving me one of the most disturbing images I've seen in years.  The cover of Nailbiter #1, out this Wednesday, affected me in much the same way that watching Se7en did when it was released in 1995.  It's visceral, a physical reaction to an idea, that spun sensation in your guts as you read and understand.  Of course, I had to read more.
Buckaroo, Oregon, birthplace of sixteen of the worst serial killers in the world.  Joshua Williamson (Ghosted, Necessary Evil) adds character to a town that needs no more with people like Nicholas Finch, one of the detectives who caught the Nailbiter, a serial killer who chews the nails of his victims down to the bone. (Hence the ever disturbing cover image.)  Finch is in Buckaroo to find his former partner, Eliot Carroll, who has disappeared after telling Finch that he's discovered the secret to Buckaroo.  Why are there so many killers that come from there?  What's the connection?  What are the implications for Finch in a case like this, when he is dealing with some major issues himself?
Williamson is in the midst of a mystery, one that is filled with bees and an emo high school girl, a tough small town sheriff and the capitalist grandson of one of the Buckaroo sixteen.  This story is great for all the reasons that movies like Se7en and Silence of the Lambs is great.  It fills you with that sense of distrust that those films do.  How well do you really know your neighbors?  What might they be hiding in that shed in the backyard?  Where have all the cats gone?  These are the kinds of questions Williamson will have you asking and you'll love every minute of it.  He's combined a psychological thriller with and 80's slasher film.  There is a sequence of panels that reminded me of a flashback scene from Friday the 13th or Nightmare on Elm Street, where the origin of the killer is explained.  "He was a quiet kid, but they made fun of him…"
Mike Henderson (Masks and Mobsters, Ghostbusters) adds a dark love of horror movies as well.  You can tell by some of his paneling choices that he has spent countless hours watching films that are meant to tweak your back a little, those ones that place the creepy little girl behind the door in the reflection.  Combined with the great coloring work of Adam Guzowski (Proof, Ghostbusters) the images impart the feel of a horror movie, deep shadows and dark colors until the last page, a "big reveal" moment, when we see the Nailbiter for the first time.  It's perfect.
And of course we return to where we started.  Mr. Chip Zdarski (Midas Flesh, Sex Criminals) who has led the whole charge with his iconic, strange and off-putting image.  All of these efforts combine to make Nailbiter one of the most interesting books coming out this year.  We've only been introduced to two of the sixteen members of the Buckaroo Killers Club, and I cannot imagine what might come next, I'm afraid and thrilled to turn the page, which is exactly how a horror book should feel.
___________________________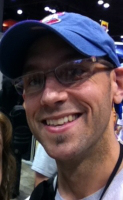 Brad Gischia is a writer and artist living in the frozen Upper Peninsula of Michigan. He is married and has three kids and a dog, who all put up with his incessant prattling about comic books.