(Image Comics, 2014)
Story by Jonathan Ross
Art by Ian Churchill
Lettering by Richard Starkings & Jimmy Betancourt
Coloring by Arif Prianto & Ian Churchill
I was not alive during the height of the EC Comics craze of the late mid-50's. I didn't get the opportunity to see those originals framed in black wire and lazily spinning through the dusty shafts of sunlight coming through the drugstore window…
Paints a pretty nice picture…doesn't it? Imagine your horror (and therefore delight) when you got home with said book and found that what was contained between those grainy covers was not your typical story. No crazy antics from Little Lulu or Daffy Duck, but real crime, real mayhem, real horror.
That is the spirit in which I opened Revenge, out today from Image Comics. Jonathan Ross (America's Got Powers, Turf) is no newcomer to the world of comic books. On top of a long career in British television, he created a documentary about Steve Ditko, and over his life has amassed a large collection of American comic books. This is his grim take on the world of the American entertainment industry, and more specifically, Mr. Griffin Franks.
Griffin is a movie star, or was a star of the "Revenge" series of films. In the vein of Charles Bronson or David Carradine, Griffin is in his 70's when his career is resurrected by the reboot of his Revenge film, only to find that he will be replaced in the next film. Convinced by his young wife that he needs to take drastic measures to reboot himself along with his career, and he goes with her to Mexico.
Ian Churchill's art is realistic and detailed. Griffin seems to contain so many physical characteristics of popular older action stars. I can see a little Mickey Rourke, a little DeNiro, a little Mel Gibson…Churchill has chosen a perfect caricature of the man. There are scenes when Griffin literally has no skin on his face…but Churchill has the skill to easily transmit the right features through the pulpy mess that is left over.
Ross has a good perspective on the shallow nature and quick turnover in American show business. He has written a revenge tale in the most terrifying sense of the word and he has incorporated the origin story at the end of the protagonists' life, a birth and death at the same time.
There are many topics in comics that I wouldn't let my kids read about. In fact, some of the most mainstream comics contain images and situations that I as a parent would rather my children didn't see. Of course I'm not so naïve as to think that comics are only one facet of media and that media is being beamed into my kids' heads every day, but as a parent I must be the one to shield them if I can.
With that out of the way, this book is perfect for fans of horror comics specifically because it has the ability to make adults cringe. It harkens back to the early days of EC Comics, before the comic's code, when you could show the severed head of a women flanked by a bloody axe, a comic that you would smuggle back to your bedroom and read beneath the covers, horrified and thrilled at the same time. Revenge is a dish best served to a mature audience, but one that is served in the truest sense of the horror comic genre, unafraid to pull punches in a Gainesian style, daring you to turn the next page.
___________________________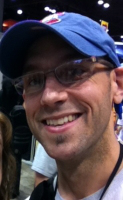 Brad Gischia is a writer and artist living in the frozen Upper Peninsula of Michigan. He is married and has three kids and a dog, who all put up with his incessant prattling about comic books.