(DC Comics/Vertigo, 2014)
Written & Illustrated by Jeff Lemire
Lettered by Carlos M. Mangual
I've been putting off writing about Trillium for months now. I was going to review #1 but it had already been claimed for review by the time I got in touch with Cory if I remember correctly. With each issue that I've read I've felt less and less inclined to write about the engaging, estranging, frustrating, atmospheric, experimental beast that is Trillium, one of the most interesting comics of 2013. I feel like the immediate half-way point of the series is a good jumping on point as any to look back over these first five issues and try to put into words my often conflicted feelings about the book.
Experimentation is Trillium's strength and its weakness. Trillium #1's flip-book style got a lot of people interested in the series and fit perfectly with the plot as two totally disparate narrative strands collided in the centre. It helped give a sense of importance to that meeting: the starting point of the series at the exact centre point of the first issue, in panels designed to be read more than once. Now, Trillium was immediately being cast as a 'love story' and the collision of the two love interests at the centre made me approach the series with some trepidation. The imminent extinction of the human race and Nika's transportation through time and space that was the real plot focus of #1 was interesting and engaging but I could not, and cannot, picture the plot incorporating that romantic aspect without turning into something cheesy and embarrassing.
In Trillium #2, Lemire dramatized a language barrier by switching the reader's perspective between the two characters in a way that was effective but in my mind somewhat twee. The mysterious properties of the trillium flower resurrected my interest and the artwork towards the end of that issue was great too. While it was definitely a case of peaks and troughs rather than lost interest or poor writing, my bias against the romantic theme had me feeling that #3 was the last chance I was giving the comic before dropping it, believe it or not. Trillium #3 opened with a more straightforward chronological flashback-to-present set piece before injecting some upside down pages telling William's side of events. As the two protagonists met once more and the narratives converged the comic became linear and right-way-up (which is to say readable!) once more. Just in time for the Inca temple to start transporting ships through time and space to Earth! "Next: the end of the universe". Yeah, okay, you got me again Jeff! I can put up with having to flip the comic upside down every two pages for one more month to find out how this resolves itself… just please don't turn this into some cheesy,  romantic "their love saved the universe" shit!
Other than the first issue which I thought was interesting, engaging and effective with its flip-book format, I had been finding the 'experimental' aspects of the book frustrating and it was the plot that ultimately kept me reading, as frustrating as that plot could be at times with its constant transportations! If transportation wasn't what I was looking for, maybe #4 would've been better avoided. However, Trillium #4 actually featured three of the most effective pages of the comic yet, manipulating the language-barrier time-around speech that first reared its bilingual head in #2 to fantastic effect. Here, Clayton is being interrogated by Commander Pohl and over three pages the visible dialogue switches between the two: the angry interrogator unable to understand the prisoner, and the terrified prisoner crying 'I don't understand what's happening' as he's beat and a gun is put to his head. It was great. It managed to create a real sense of sympathy for Clayton as he is first voiceless, then pleading and ignored, and then voiceless once more, looking down the barrel of a gun. It's amazing how the same technique in a different context… Anyway, Trillium #5 is to be read as follows: first front to back, reading the panels on the top half of each page only, then flipped upside down and read backwards, again reading only the top 2 half of each page again. I found that frustrating. However, there were often parallels between the two and there was one splash where the two (sort of) met together. Frustrating but also interesting.
I don't want to say much about the plot which makes this review of #5 not really a review of #5 at all. In my opinion the plot is the strongest aspect of Trillium and it wouldn't be fair to spoil anything for new readers. Suffice to say, throughout Trillium #5 it is unclear what reality is any more… You should be reading this, even if you have to read it upside down, backwards…. read it!
___________________________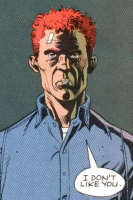 John is a writer, wrestling fan, and man of the people from Glasgow, Scotland. On a class outing to the library when he was ten, John stole a Sandman trade paperback because they wouldn't let him hire teenage books on his children's card. He's been reading comics ever since.