(Self Published, 2013)
Review by Brad Gischia
WRITTEN / ARTWORK BY:  Denver Brubaker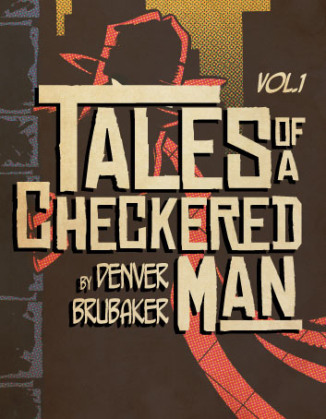 Greetings from the Wasteland!
This week I chose a neat little collection called Tales of a Checkered Man Volume 1, by Chicago-based cartoonist Denver Brubaker.
The book is a compilation of Mr. Brubaker's ongoing comic strip of the same name, in which our hero, The Checkered Man, fights the darker elements in Exotic City.  The first three chapters document, in three to six panel segments, the Checkered Man's crippling fear of heights and the author's love of the super hero/vigilante genre.
The sequential nature of the comic strip makes this an easy book to digest all at once or read in small increments, just like a newspaper strip, but Brubaker has stitched the narrative together well so that the story continues to move forward in those small segments.  There is bonus material at the end, a short comic about the back-story mentioned therein, and a group of early sketches of the characters.
Although I will always urge you to support independent artists, Denver Brubaker has made it easy for anyone to enjoy his work.  By visiting www.thecheckeredman.com, you can view over three years worth of strips.  You can follow the story of this often bumbling and reluctant hero as well as read the creator's blog on the site.
The book is a mad, fun joining of Bill Watterson and Bruce Timm, with a little Frank Miller and H.P. Lovecraft thrown in for good measure.  Don't forget to add a heaping helping of noir, and you have Tales of a Checkered Man.
___________________________
Follow Brad Gischia on Twitter:  @comicwasteland